Online learning, health and well-being
Many of these resources were written and compiled at the onset of the first lockdown in March 2020. Some of the information may therefore be a little dated, but the bulk of it will still be relevant.

Online learning @KIS: Do this, not this!
But before you get carried away, take a read of this: Please do a bad job of putting your courses online.
It might help put your efforts into context!
And Don't forget the human side of homeworking (JISC)

Learning technology: a handbook - e-book on VLeBooks platform
Linked in learning - Rose Bruford College's own linked-in learning pages
Advice for those about to teach online – Tony Bates
Answers to questions about teaching online - Sage
CILT online teaching portal – resources for teaching online
Considerations for moving your course online (City University)
Continuity plans from National Institute for Digital Learning at DCU
Creating an Online Class or Conference – Quick Tech Guide
Crowdsourcing: Teaching Online with Care – Maha Bali and Mia Zamora
Engaging online students - resource list from McQuarrie University
McGraw Hill: Move your course online
Novoresume: 2020 complete guide to remote work - tips and techniques
Online educator – MOOC from the OU and FutureLearn
Practical Teaching with Technology MOOC from University of London
QAA Guidance and Support - e.g. document on Practice & Lab-based Assessment
Studio teaching - during COVID19 - Australian Council of Art & Design Schools
Teaching performing arts during the pandemic - HowlRound Theatre Commons
Twitter thread from Sean Michael Morris
University of Windsor open page – educators talking about the tools they use
UCU guidance on working from home and teaching online
UNESCO online learning solutions
USITT Teaching Archive - online technical theatre resources in their Teaching Archive
World Lecture Project - A freely accessible online platform for delivering academic videos from faculties worldwide. As well as accessing lectures users can upload, embed and link content.
- tutorials on the lighting software (from our own James Simpson)
LTHE chat - Learning and Teaching in Higher Education chat site (Wednesdays 8-9pm)
Remote working
Manage participation in your virtual meeting
Remote working: setting yourself and your teams up for success
Collaborative working in a remote team

Remote line managing
CIPD coronavirus (COVID-19) advice for UK employers
A guide to managing your (newly) remote workers
Protecting your vulnerable employees at this crucial time
How employers are taking care of their workers during COVID-19
Coronavirus: five ways to be a better manager when working from home
Preparing for emergency remote working
Getting the most from remote working
The 5 ways we build trust on a fully remote team and why it's so valuable
5 remote work lessons learned from Asia


C&T Prospero Digital
C&T has been developing its own theatre-based Online Distance learning platform, Prospero.digital, a platform to enable distance learning in the performning arts. They are currently taking steps to make Prospero as accessible as possible and have introduced new Prospero licenses, one for Individual users and another 'Pro' package designed for institutional use so universities, schools and cultural organisations can make and share their own online interactive resources with their students and participants. They call these 'Producer' accounts. The Individual account will be £4.99 a month and the new Pro license will be £795 per year, reduced from the previous Pro package prices of £3-£5K.
Health and well-being
UCU's guide to Taking care of yourself - supporting your mental health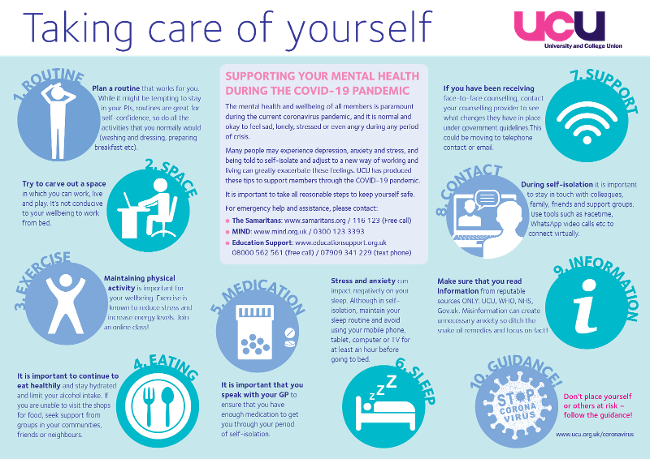 Notes from the SHP remote working and mental health webinar (thanks to Philip Jarvis)
People think at first they know how to home work, but lots of issues come up:

Anxiety and feeling lost.
Decrease in home work balance,
Missing seeing colleagues,
Less visibility of staff
Lack of motivation and focus
Easy to feel you haven't achieved anything for the day
Risk of burnout
Financial concerns,
Anxiety about catching the virus
Physical/musculoskeletal issues - as no one is working in ideal circumstances.

Tips for managers:
Agree what needs to be done at the beginning of the day or
Have a chat at the end of the day so staff feel positive.
What is sensible, what do members of your team want, to achieve,
Work methodically through a to do list.
Focus on what we can control
Have regular contact with your team.
Provide kindness and support - everyone is worried.
Remote work burnout (Fingerprint for Success)
16 surprising stats on remote work burnout

Online resources

Barbour https://www.shponline.co.uk/lone-working/home-working-guide/
EU OSHA https://osha.europa.eu/en
Future Learn - Emotional intelligence at work
Future Learn - Motivation and engagement in an uncertain world
Future Learn - People management skills
Future Learn - Work-life balance and the impact of remote working
HSE https://www.hse.gov.uk/toolbox/workers/home.htm
Industry Minds (mental health support for the creative arts) https://www.industryminds.co.uk/
Mental Health at work www.mentalhealthatwork.org.uk
Mental Health at work commitment https://www.mentalhealthatwork.org.uk/commitment/
Mental Health Foundation - Looking after your mental health
MIND UK https://www.mind.org.uk/
MIND COVID-19 toolkit https://www.mind.org.uk/information-support/coronavirus-and-your-wellbeing/
MIND resources on home working https://www.mind.org.uk/workplace/mental-health-at-work/coronavirus-supporting-yourself-and-your-team/
Old Vic: Study at home: wellbeing https://www.oldvictheatre.com/news/2020/05/study-at-home-tips-wellbeing
Personnel Today Managers must improve mental health support during coronavirus crisis
Plan for happiness, manage it and engineer it. https://www.happinesslab.fm/
Recovery Village https://www.therecoveryvillage.com/mental-health/ (US based but useful online information)
SHP https://www.shponline.co.uk/
SHP ten top tips https://www.shponline.co.uk/lone-working/home-working/
Wellness - Action plans


EBSCOhost: ACCEL5 videos (managing stress, focusing effectively, emotional & physical health etc.)
TEAMS immersive reader learn how to read messages and assignments
Vimeo: Fast switch to e-learning